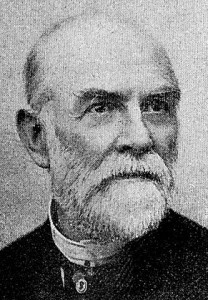 Overview
Books (1,220 items) previously owned by Ernst Engel (1821-1896).
The collection includes 192 items of 準エンゲル文庫(jun Engel bunko) Engel's Sub-Library which do not carry his ownership mark but is considered to be his books through handwritten comments in the margins, etc.
Searching the Catalogue
You can search this on UTokyo OPAC.  The name "Engel's Library" will appear in the Collection field. If you would like to browse, select

 Engel's library

from the pull-down menu in

the

Collection field

on Advanced Search of the UTokyo OPAC, then click the search button.
Catalogue
"Classified catalogue of Engel's library" Library, Faculty of Economics Univ. of Tokyo, 1984.5
References
SAITO Shigeru「"エンゲル文庫"と東京大学経済学部 (Engel bunko to Tokyo daigaku keizai gakubu)」"The Tokyo University Library Bulletin"  21(3), 1982.3
HIZEN Eiichi「『エンゲル文庫』について ("Engel bunko" ni tsuite) 」"Classified catalogue of Engel's library" Library, Faculty of Economics Univ. of Tokyo, 1984.5
KAN Masako「『エンゲル文庫』冊子体目録の編集を終えて ("Engel bunko" sasshitai mokuroku no sagyo wo oete)」"The Tokyo University Library Bulletin" 23(12), 1984.12
Contacts
Resources and Historical Collections Office